Been putting in some solid base miles
Need to improve my post-to-weight ratio.
Hey, look at that! Now I'm even closer!
I think i was on my way to 1000 on the old forum before it was reset. So if we count that, i must be near, and Ben Adler well beyond, 2000!
Nice try Nick, no posts were losts, no counts reset =p
Cumulative posts per month: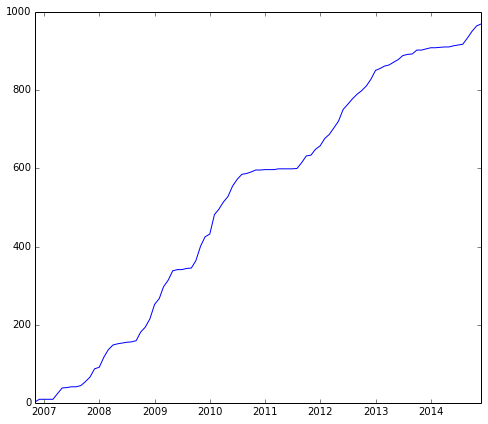 Nothing gets past the webmaster
What happened in 2011 o_O
I'm so far behind. Even baby Dominique has nearly twice as many post as me
Well, Vince, your other account has 56 posts, so overall, you're not that far behind.
---
"Big Brother is Watching You." -George Orwell, 1984
What I'd like to see is total posts by everybody per month over time. Might be a tad depressing though…
I want to see posts/(time since account created).
Im pretty sure I'm winning that even though I had a dry spell from when I joined in around 2011 to ask wheres a safe space to lock my bike on campus.
Mike, you joined 5 days before me.
Strictly speaking at 101 posts in over four years I must be the Lanterne rouge in this cycling forum.
jon has stated that this info is all easily accessible, given he gets a new webmaster
I think that is when Nic was studying in the Netherlands?
[quote=MikeB]I want to see posts/(time since account created).
Im pretty sure I'm winning that even though I had a dry spell from when I joined in around 2011 to ask wheres a safe space to lock my bike on campus.[/quote]
I don't have that one, but posts/(time between first and last posts) favors people who's accounts were short lived (only includes people who posted at least twice):
Name Posts/day
Monk 0.555556
Bernard Moulins 0.166667
joevilella 0.146789
Jacek 0.130435
mexi-G 0.111111
Charette 0.075000
mireille 0.067797
BryanVW 0.067797
Samuel.L 0.062176
ben_adler 0.055406
Dennis 0.053458
Brian_V 0.050847
Jonathan 0.044020
Andrew21 0.041667
DavidF 0.040566
And at the other end of the spectrum:
name posts/day
Isaac-Stevens Tech 0.000240
mousebike 0.000235
Morgan50 0.000231
Enting 0.000220
Mathieu D.T. 0.000207
Matt S 0.000150
Luce 0.000144
Michael Le Rossignol 0.000141
dddaan 0.000141
oliver_wockner 0.000139
nvmtl 0.000138
timolippian2 0.000137
LH 0.000135
Fangyu 0.000113
adimi24 0.000104
And if you filter by people who've posted at least 50 times:
posts/day
ben_adler 0.055406
Dennis 0.053458
Jonathan 0.044020
DavidF 0.040566
Jocelyn Berteaud 0.037130
Jason_L 0.035245
adam_bouchard 0.034967
MikeB 0.034388
calgarymike 0.034320
brandon 0.031063
Eric Burge 0.030155
DhruvB 0.029228
nammerlaan 0.028047
PeteW 0.027860
John Turtle 0.025309